The very latest dental implants can be fitted to replace missing teeth or to hold dentures in place, giving you a new confidence in your smile. Book your consultation today.
What are dental implants?
A dental implant is a small titanium metal post which is placed into the jawbone. It is used to support one or more false teeth. In practice, both the false teeth and their supporting rod are known as 'implants'.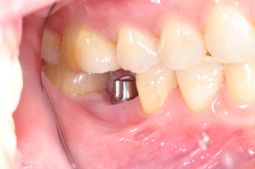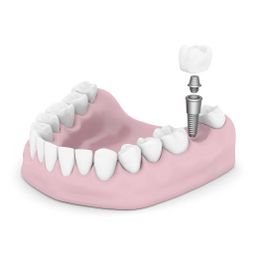 Are dental implants safe? How long will they last?
Implants are a well-established, tried and tested treatment. Over 90% of modern implants last for at least 15 years.
I have some of my own teeth. Can I still have dental implants?
Yes. You can have any number of teeth replaced with implants – from one single tooth to a complete set.
Can dental implants always be used to replace missing teeth?
It depends on the state of the bone in your jaw. Your dentist will arrange for a number of special tests to assess the amount of bone still there. If there is not enough, or if it isn't healthy enough, it may not be possible to place implants without grafting bone into the area first.
Do dental implants hurt?
The procedure involves a small operation carried out under local anaesthetic. Like other dental treatments involving local anaesthetic you should not feel any pain during the procedure. You may feel some discomfort for a few days following the surgery. This is usually due to having stitches in place, and the normal healing process.
Can I have the new teeth straight away?
No. The implants need to bond (integrate) with the bone after they have been placed. This takes between six weeks and six months depending on the condition of the supporting bone. If you are having one, two or three teeth replaced, you may have a temporary restoration in the meantime. If you have complete dentures, then you can wear them throughout the healing period once they have been adjusted after the surgery.
How long does treatment take?
It may take up to 12 months from initial assesment to the time when artificial teeth or dentures are finally attached to the implants. However, if the case is straightforward it would normally take around four months. A lot depends on how complicated your treatment is. Your dentist will be able to give you a timetable once the surgery has been done.
Are the teeth difficult to clean?
Cleaning around the teeth attached to the implants is no more difficult than cleaning natural teeth. However, there may be areas that give you problems and you'll be shown methods to help.
For further queries or to arrange an informal, no obligation chat with our friendly, helpful team call us now for free using the 'Click to Call' link above